Meet the Prostate Laser Center Team
Ara Karamanian, M.D., is board certified as a vascular and interventional radiologist and a diagnostic radiologist. He specializes in prostate MRI and MRI-guided laser treatment for prostate cancer and enlarged prostate (BPH). These procedures offer treatment with fewer side effects than traditional approaches.
Dr. Karamanian's interest in high-end technologies began early in life. From childhood, he deconstructed and rebuilt devices to understand how they worked. That led him to study biomedical engineering at Duke University prior to medical school. At Duke, he performed research in 3D ultrasound imaging as an undergraduate research fellow.
While in medical school, Dr. Karamanian originally considered orthopedic surgery and co-authored a paper on spine biomechanics. Following medical school, his biomedical engineering background led him to interventional radiology, a field that leverages the power of sophisticated medical imaging equipment to perform minimally invasive procedures.
A devoted father himself, Dr. Karamanian was inspired by his own physician father to enter medicine and use his talents in math and science to make a difference in people's lives.
As a member of the Society of Interventional Radiology, the American College of Radiology, the Radiological Society of North America, and the American Roentgen Ray Society, Dr. Karamanian closely follows the latest developments in prostate imaging and prostate cancer.
He was co-author of the peer-reviewed paper, "MRI Guided Prostate Interventions," published in the American Journal of Roentgenology. [1] He also received an award at the GEST 2016 conference for his research with MRI-guided focal laser ablation.
When he isn't seeing patients or performing minimally invasive procedures, Dr. Karamanian, who edits Manushag Armenian Children's Magazine, keeps current with global politics and culture. However, he spends most of his time with his family. As an avid soccer fan who supports both the Houston Dynamo and Houston Dash teams, he enjoys playing the game with his children, teaching them healthy habits and good values.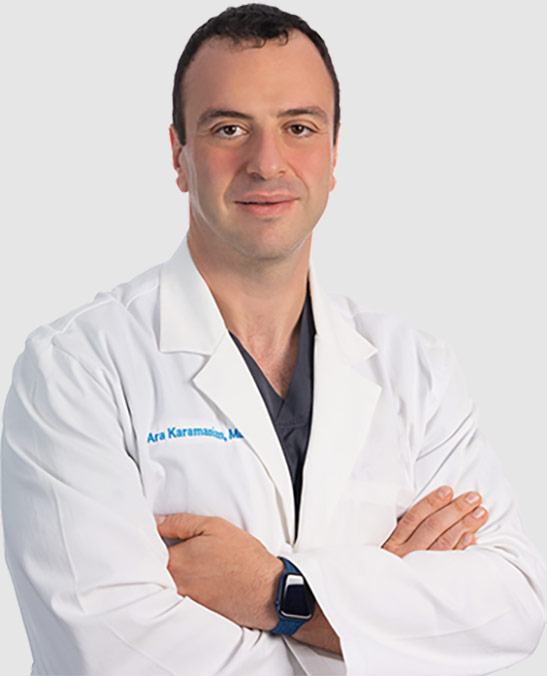 Aaron Harman, M.D., is a board-certified radiologist in vascular and interventional radiology as well as diagnostic radiology. Originally from Boston, Massachusetts, Dr. Harman and his family relocated to beautiful Houston, Texas.
Dr. Harman completed his internal medicine internship at St. Vincent Hospital, where he was voted "Intern of the Year." He then trained at Brown University for his diagnostic radiology residency, winning the "Resident Teacher" award.
After graduating from a vascular and interventional radiology fellowship at Brigham and Women's Hospital in Boston, Dr. Harman spent his early career years at the University of Massachusetts (UMass) Medical School where he rapidly rose to the leadership position of Program Director of the Interventional Radiology residency.
He was invited by the medical school's Interventional Radiology Interest Group to act as faculty advisor, where he was shared his passion for the field with the next generation of doctors. He also served as president of the New England Society of Interventional Radiology (NESIR) and currently sits on its board of directors.
Dr. Harman has a clinical interest in interventional oncology, a subspecialty of interventional radiology that deals with minimally invasive treatments for cancer. During his fellowship, Dr. Harmon won a Society of Interventional Oncology (SIO) scholarship. During his time at Brown, Brigham, and UMass, he performed numerous microwave ablations and cryoablations of tumors in the lung, liver, kidneys, and soft tissues, as well as embolizations of tumors in the liver and kidneys.
Dr. Harman has authored and co-authored several papers and book chapters, including a forthcoming review article on interventional oncology featuring a section on MRI-guided focal prostate ablation. He is also a member of the Society of Interventional Radiology (SIR) and the Focal Therapy Society (FTS).
Dr. Harman now focuses his efforts on MRI-guided focal laser ablation of prostate cancer and benign prostatic hypertrophy (BPH). In addition, he has performed numerous other image-guided urological procedures, including renal biopsies, nephrostomy and suprapubic tube placements, prostate abscess drainage, renal hemorrhage embolization, prostate artery embolization, and vesical artery embolization.
When he's not working, Dr. Harman enjoys spending time with his wife and three sons. He also enjoys traveling, and has visited Ghana, the Dominican Republic, and India on medical mission trips.
Donnie Sartin, RN, BSN, CRN, CSRN has extensive experience taking care of hundreds of laser focal therapy dating back to 2013.
Prior to being the patient coordinator for laser focal therapy programs, Donnie had 7 years of experience as an ICU nurse, often in the position of ICU charge nurse.
He is certified in conscious sedation, advanced cardiac life support, and as a radiology nurse.
References
[1] Walser, E.M., Sze, T.F., Ross, J.R., Karamanian, A.A., & Woodrum, DA. (2016). MRI-guided prostate interventions. American Journal of Roentgenology, 207. 755-763. doi: 10.2214 
Interested in our treatment options?